Smokey Treats BBQ Serves Up Locally Sourced Global Flavors in River Falls, WI
12 May 2020
---
Located in River Falls, Wisconsin, Smokey Treats BBQ is serving up locally-sourced flavorful BBQ with a spin. With a slogan of "Taste Global, Eat Local" they offer a unique approach to fan favorites like pulled pork sandwiches. In addition to the classics they make the popular Sicilian Pulled Pork, Spicy Polynesian Pulled Pork and Mediterranean Pulled Pork. By incorporating international flavors into traditional BBQ, they provide customers with a flavor profile that makes Smokey Treats stand out from the crowd. Their local approach also makes for an interesting menu where you can find cheese curds and poutines.
Their flavors are enhanced by their ability to source local ingredients. "We try to stay as locally sourced as possible. All of our meat comes from Minnesota. We also source from Croix Valley Sauces and Seasonings in Hudson and Grateful Bread in River Falls. In addition, all our craft beers are from Wisconsin. The whole plan when coming up with the menu and ingredients was to stay as locally sourced as we could while still being financially viable," said co-owner Matthew (Matt) Beranek.
The story behind Smokey Treats BBQ is as unique as their approach. Matt came up with the idea while he was in jail for growing marijuana. For a year he contemplated how to bring locally sourced BBQ with an international flair to his hometown of River Falls.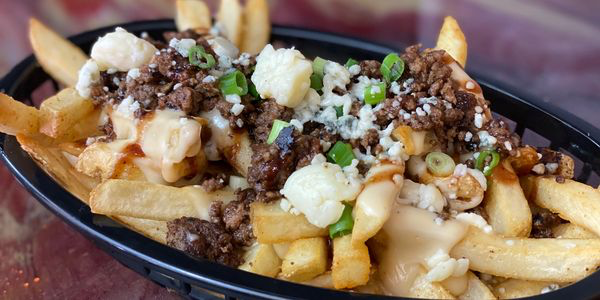 His idea has proven to be a winner but starting a business as a felon is rife with challenges. Having spent all his money on legal fees, he had no startup capital and his time in jail left him with poor credit. As a result, he needed help from people who believed in his vision. Those people included his best friend Tim and 'Women's Venture' in Minneapolis, who backed his SBA loan. "I relied on a lot of people to get where I'm at. They (Women's Venture) put their trust in me and I am halfway through paying back." Joe Folsom, Executive Director of Pierce County Economic Development Corporation, also worked closely with Matt to help with various aspects of starting the business and to secure SBA funding. "Joe has been a big help and resource as I started my business," he said.
With funding in hand, Matt started Smokey Treats BBQ as a food truck and traveled around to regional festivals. Then on November 12th they opened Smoke Treats BBQ the restaurant. With the help of business partner Damon Holter, Matt was able to self-fund the restaurant startup costs and has kept the overhead minimal- something that has helped given the current crisis. The restaurant was doing very well for a new business, and then COVID-19 hit. "I closed our restaurant earlier than others and implemented delivery. We beefed up our website and online ordering right away which has paid off. Our restaurant is going strong with takeout and delivery orders thanks to the support of the community. We produce a quality product so once people try it they order more," said Matt. "We put everything into the menu, and it shows with our reviews. People's reactions have been really incredible," said Matt.
Though COVID-19 has changed how they do business temporarily, Matt looks forward to getting the food truck back on the road and opening up the restaurant to dine-in. As business owners, Matt and Damon are a good example of how staying nimble can help you to get through sudden changes – even national emergencies like COVID-19. Smokey Treats BBQ has responded to the crisis in a way that is exemplary, and Matt credits his team for much of that effort. "None of this would be possible without our committed team. We appreciate them each and every day," he said. Even though their business has been reduced, and their overhead increased due to the cost of delivery food containers, with the help of their team they have been able to stay true to their vision of supporting the community by keeping their ingredients locally sourced and using compostable containers that are environmentally friendly.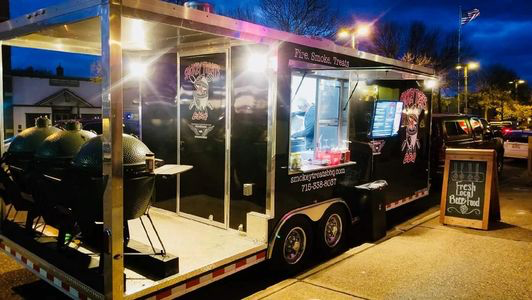 We look forward to watching Smokey Treats BBQ grow and encourage anyone who hasn't visited this River Falls gem to check out their menu.